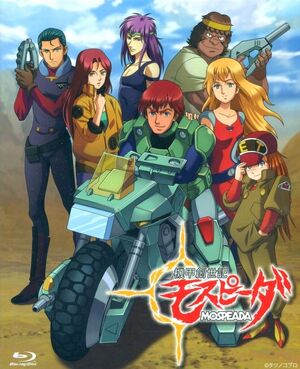 Genesis Climber MOSPEADA (機甲創世記モスピーダ Kikō Sōseiki Mosupīda literally "Armored Genesis MOSPEADA") is a television series made by Tatsunoko and Artmic. It was later adapted as the third part of Robotech by Carl Macek and Harmony Gold.
Plot
Without warning in the year 2050, an alien race called the Inbits arrive, invade and successfully conquer the Earth. Years later and despite brutal past failures, the inhabitants of Mars Colony send out yet another desperate Liberation Force to try and reclaim their lost home world. The fleet is all but destroyed. However, a lone survivor, Stick Bernard, finds himself on Earth. Gathering a mere handful of resistance fighters, Stick journeys on towards the Inbit's headquarters at Reflex Point in an attempt to gather intelligence and, possibly, discover a way to beat them.
Episode Guide
Japanese
Air Date
#
MOSPEADA Episode
Robotech Episode
1983.10.02
1
Prelude to the Offensive
襲撃のプレリュード
61. The Invid Invasion
1983.10.09
2
The Broken-Hearted Girl's March失恋少女のマーチShitsuren Shōjo no Māchi
62. The Lost City
1983.10.16
3
真昼の決闘コンサートMahiru no Kettou Konsāto
63. Lonely Soldier Boy
1983.10.23
4
気分はサバイバル・ソングKibun wa Sabaibaru Songu
64. Survival
1983.10.30
5
Live Inn Plunder Operation|ライブ・イン・強奪作戦Raibu In Gōdatsu Sakusen
65. Curtain Call
1983.11.06
6
Support Girl Blues突ッ張り少女ブルースTsuppari Shōjo Burūsu
66. Hard Times
1983.11.13
7
Fallen Hero's Ragtime亡き勇者のラグタイムNaki Yūsha no Ragutaimu
67. Paper Hero
1983.11.20
8
Jonathan's ElegyジョナサンのエレジーJonasan no Erejī
68. Eulogy
1983.11.27
9
Lost World Fugueロスト・ワールド遁走曲Rosuto Wārudo Tonsōkyoku
69. The Genesis Pits
1983.12.04
10
Requiem of the Battlefield戦場のレクイエムSenjō no Rekuiemu
70. Enter Marlene
1983.12.11
11
Lullaby of Distant Hope遠い希望のララバイTōi Kibō no Rarabai
71. The Secret Route
1983.12.18
12
Fortress Breakthrough Boogie要塞突破ブギYōsai Toppa Bugi
72. The Fortress
1983.12.25
13
Sandstorm Playback砂嵐プレイバックSuna-arashi Pureibakku
73. Sandstorm
1984.01.08
14
Mint's Wedding Marchミントの結婚行進曲Minto no Kekkonkōshinkyoku
74. Annie's Wedding
1984.01.15
15
The Ballad of Breaking Up仲間割れのバラードNakamaware no Barādo
75. Separate Ways
1984.01.22
16
Trap Reggaeトラップ・レゲエTorappu Regē
76. Metamorphosis
1984.01.29
17
White Night Serenade白夜のセレナーデHakuya no Serenāde
77. The Midnight Sun
1984.02.05
18
The Nature of Old Soldier's Polka老兵たちのポルカRōhei-tachi no Poruka
78. Ghost Town
1984.02.12
19
Forte of the Glacier City氷河都市のフォルテHyōga Toshi no Forute
79. Frost Bite
1984.02.19
20
Birthday Song of the Night Sky夜空のバースディ・ソングYozora no Bāsudi Songu
80. Birthday Blues
1984.02.26
21
Arpeggio of Murder殺しのアルペジオKoroshi no Arupejio
81. Hired Gun
1984.03.04
22
New York Bebopニューヨーク・ビーバップNyū Yōku Bībappu
82. The Big Apple
1984.03.11
23
Black Hair's Partita黒髪のパルティータKokuhatsu no Parutīta
83. Reflex Point
1984.03.18
24
The Dark Finale闇のフィナーレYami no Fināre
84. Dark Finale
1984.03.25
25
Symphony of Light光のシンフォニーHikari no Shinfonī
85. Symphony of Light
Characters
Production
Release
On July 28, 2016, the un-remastered version of Genesis Climber MOSPEADA became available on Amazon Video with English subtitles.[1]
Trivia
References